Meet Your New IT Service Provider
Semper Paratus. 48 Tech…Always Prepared.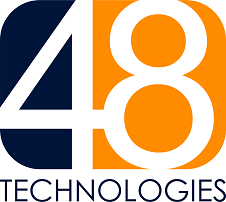 Semper Paratus is a Latin phrase meaning "Always Ready". And that's exactly what we are….always ready to keep your companies' technology running at it's best.
48 Technologies, LLC. is a leading Managed IT Service Provider (MSP) and Managed Security Service Provider (MSSP) in the Dallas – Fort Worth area with 17 years of experience in providing proactive IT support & infrastructure management, advanced data analytics and security insights, vulnerability management, cyber-security monitoring and analysis, hybrid data backups and business continuity, strategic technology consulting services, 24×7 help desk services, and powerful managed cloud services to small and medium sized organizations — allowing you to concentrate on running your business while 48 Technologies manages your networks and provides expert cyber-security, strategy, consulting, and support.
Trust
48 Technologies Service Principles
Responsiveness – Speed or responsiveness is our main determinant for service quality. How fast we answer your support call or fix an outage has a huge impact on your overall satisfaction. Accuracy – Besides being fast, your service answers should, obviously, be correct. Providing our customers with the wrong answers or technologies really doesn't help much. We strive to be accurate. Clarity – Clarity is about how processable our communication is. Sure, you don't need to know every single detail, but it is nice to understand the overall process so you aren't left in the dark. Transparency – Not knowing what is happening or why makes you uneasy. Which is why transparency is just as critical to service as speed and accuracy. Accessibility – If you have a problem, how easy is it for you to get in touch with us? With multiple ways to engage, such as phone, email and chat, we are always striving to be more accessible to our clients. Empowerment – we are flexible with our clients, which gives them more empowerment to pick service times and dates, etc. And last, Friendliness – kind of speaks for itself, right? No-one likes dealing with a unfriendly support rep. With 48 Tech you won't have to.
Office
4400 Mark IV Pkwy. #164434
Fort Worth, TX 76161
Call Us
(844) 488-3241
(214) 550-8828
(682) 250-1411